Sunday Majors & SCOOP Railbird Report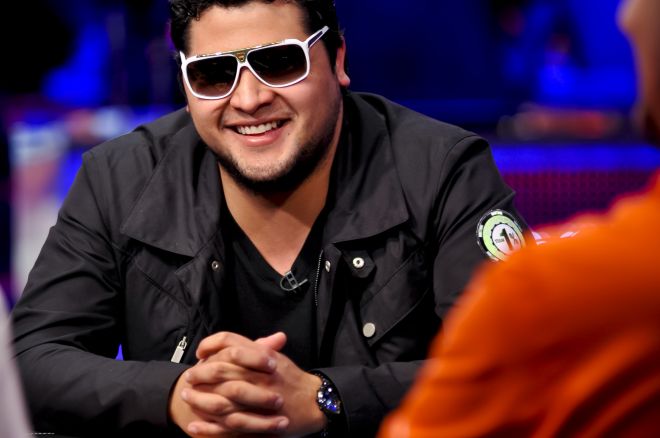 Sunday
Sunday Second Chance
Con buy in de 215$ y 1,584 inscritos se reunió un prizepool de $316,800. Como runner up se sostuvo el argentino Rodrigo "sonmonedas" Perez por $s 38,649 y en la sexta posición Jose Manuel "Nadalon" Nadal de México por $2.355
Nightly Forty Grand
Con un buy in de $162 y 251 inscritos se reunió un garantizado de $52,650. De México "LilFishAtL" se colocó en la octava posición por $1,263.
The Bigger $55
Ivan "Negriin " Luca hizo de las suyas en el Bigger $55 colocandose en la sexta posición por $7,756. Con $238,650 en prizepool, el argentino cobro una parte del garantizado.
The Hotter $16.50
Con un buy in de $16.50 y 7,450 jugadores inscritos, fue el mexicano Francisco "Pythomunoz" Muñoz quien se posicionó en el sexto puesto por $3,576 por su esfuerzo.
SCOOP
SCOOP 15-M $109 NL Hold'em [Progressive Super KO]
| Lugar | Jugador | Pais | Premio |
| --- | --- | --- | --- |
| 1 | Tiu [email protected] | Brasil | $57,627.80 |
| 2 | BruceLeemp | Malta | $42,620.62 |
| 3 | marcelobruxo | Brasil | $30,308.00 |
| 4 | EspenasApart | Norway | $20,836.75 |
| 5 | Minefornuts | United Kingdom | $15,911.70 |
| 6 | Popolinos | Finlandia | $12,123.20 |
| 7 | CASHSCHEWZ | Canada | $8,334.70 |
| 8 | someguy9 | Costa Rica | $4,546.20 |
| 9 | Yorkypoke | United Kingdom | $2,936.08 |
| 10 | FloweerBoy | Poland | $2,121.56 |
SCOOP 15-H $1,050 NL Hold'em [Progressive Super KO]
| Lugar | Jugador | País | Premio |
| --- | --- | --- | --- |
| 1 | Paulman 87 | Mexico | $148,907.50 |
| 2 | Respect_Lt | Lithuania | $108,902.50 |
| 3 | Untoran | Polonia | $82,232.50 |
| 4 | [email protected] | Czech Republic | $60,452.00 |
| 5 | kondor887 | Russia | $43,561.00 |
| 6 | Tomatee | Uruguay | $34,671.00 |
| 7 | jpvr | Belgium | $25,781.00 |
| 8 | Skämmes | Suiza | $16,891.00 |
| 9 | JBT449 | Canada | $9,156.70 |
| 10 | kartt | Brazil | $7,467.60 |
SCOOP-21-M $82 PL5 Card Omaha [6 max, 1R1A]
| Lugar | Jugador | País | Premio |
| --- | --- | --- | --- |
| 1 | luckyme1414 | United Kingdom | $25,699.02 |
| 2 | ApKTuK | Estonia | $18,723.37 |
| 3 | Nomarbles1 | Canada | $14,303.19 |
| 4 | Colonvo | Chile | $9,912.37 |
| 5 | bencb789 | United Kingdom | $6,975.37 |
SCOOP-22-H: $700 NL Hold'em 6max [variable levels time]
| Lugar | Jugador | País | Premio |
| --- | --- | --- | --- |
| 1 | niccc | Lebanon | $101,276.54 |
| 2 | Puropoker123 | Panama | $75,029.95 |
| 3 | UncleAnte9 | Canada | $57,057.00 |
| 4 | ChallengerBJ | Malta | $39,939.90 |
| 5 | mumu12345 | Germany | $28,528.50 |
| 6 | supernova9 | Mexico | $17,117.10 |
SCOOP-25-H: $2.100 PL Omaha (6-Max, Turbo Zoom)
| Lugar | Jugador | País | Premio |
| --- | --- | --- | --- |
| 1 | Str8$$$Homey | Canada | $141,960.00 |
| 2 | zzwwzzwwzz | China | $103,428.00 |
| 3 | locomi | Norway | $77,740.00 |
| 4 | pantri | Paraguay | $54,080.00 |
| 5 | TheMuppet | United Kingdom | $40,560.00 |
| 6 | RunThisTable | Canada | $27,040.00 |
SCOOP 28-M $215 Omaha Hi/Lo
| Lugar | Jugador | País | Premio |
| --- | --- | --- | --- |
| 1 | marek_heinz | Czech Republic | $19,076.00 |
| 2 | shjo | Israel | $14,056.00 |
| 3 | homasapiens | Polonia | $10,301.04 |
| 4 | jnsan1 | Rusia | $7,530.00 |
| 5 | marroca5 | Colombia | $5,020.00 |
| 6 | Demonic16 | Hungría | $3,514.00 |
| 7 | ilushan | Rusia | $2,510.00 |
| 8 | Dart Serg | Rusia | $2,008.00 |
SCOOP 28-M $2,100 Omaha Hi/Lo
| Lugar | Jugador | País | Premio |
| --- | --- | --- | --- |
| 1 | Puropoker123 | Panama | $41,697.97 |
| 2 | Ramux | Panama | $37,907.03 |
| 3 | djk123 | Australia | $24,360.00 |
| 4 | ALEX2PAIRS | Rusia | $16,530.00 |
| 5 | Sira Al Aziz | Portugal | $12,180.00 |
| 6 | Nikolo5 | Rusia | $9,135.00 |
| 7 | VavaBobo888 | Rusia | $7,395.00 |
| 8 | Gakn29 | United Kingdom | $5,655.00 |
| 9 | brights88 | Libano | $4,785.00 |